I received an award the other day from my blogger friend,
Anne
, over at Frayed at the Edge. You might want to pop over and take a look at her blog. She lives in the UK, takes beautiful photos, and shares her life of quilting, walks, outings for 'a cuppa', and lots of interesting things.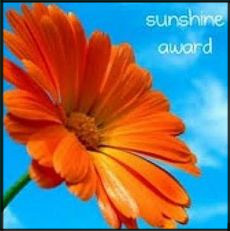 The conditions of the award require me to tell about myself and nominate three other bloggers for the award and link back to Anne. So here goes.
After years spent raising seven children (2 sons, 5 daughters) Lloyd and I are happy empty nesters. Our children are mostly nearby and have provided us with 20 grandkids to love. I have lived all my life in Canada, except for one year spent in Germany when I was 12/13. I've lived in many, many places across this huge country, from Nova Scotia on the east coast to British Columbia on the west. We have since made Alberta our home. I am a scrapbooker and love spending time scrapping with my friend Mickey and creating beautiful layouts with our photos and embellishments. I'm also a collector and over the years have collected eggs, owls, thimbles and pretty things. Before I got involved with scrapbooking and blogging, I used to spend my time doing cross stitch embroidery and knitting. I love going on road trips with Lloyd and we've managed to travel through all of the northern states, New England, and south to Arizona. One day we'll have seen them all. We have vague plans to travel to Scotland but haven't yet set a date for it.
I'm going to nominate my Arizona blogger friends for this award and encourage you to stop in and visit them.
Jo
at Just Call Me Jo is always good for a laugh - she's quirky and slightly nutty and fun to read.
Holly
at Hoosier At Heart always has an interesting twist on things - very funny and sweet. And
Roe
over at Arizona Living takes her readers on fascinating road trips through Arizona, with lots of fun commentaries about her cat Hank.
********************
Just as a follow-up, I wanted to thank all of you for your comments on my last post about the close call my grandchildren had. I also want to let you know what kind of follow-up there was to that incident. By the following morning, the police had already spoken to the school principal and to the Superintendent of Schools. Notices were sent home with all the students in every school in the area to remind parents of what can happen. In addition, the school my grandkids go to has arranged for adult supervision in the schoolyard after school every day, not just at lunch and recess as is currently in place. The same policemen who had spoken to the kids the day of the incident were at the school the next day as the students were being let out - just to show a police presence I think. It's gratifying to know that these incidents are taken seriously. Our kids didn't realize what a big deal it was until the next day when they were talked to by so many concerned adults. Even their TaiKwonDo Master took them aside when they went to class after school and talked to them about it. They are being picked up every day after school now and have always been driven to school. Still no word about the guy who was responsible for the incident. We're just thankful the kids are safe.